This page is the brochure for your selected program. You can view the provided information for this program on this page and click on the available buttons for additional options.
Costa Rica: UB Architecture in Monteverde (Summer)
Monteverde, Costa Rica
(Outgoing Program)
Program Terms:
Summer

Budget Sheets
Summer

There are currently no active application cycles for this program.
Open to:
Students from any U.S. institution
Language of Instruction:
English
Eligibility:
Juniors, Seniors, and Graduate Students
Area of Study:
Architecture, Environmental Design, Urban Planning
Term:
Summer
Housing Options:
Host Family
Program Advisor:
Olga Crombie
UB Architecture in Monteverde
---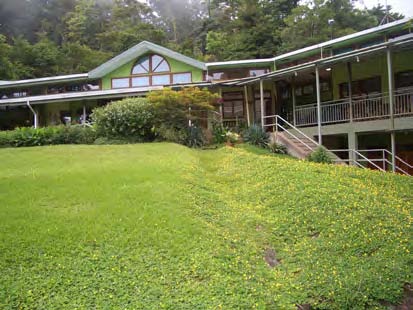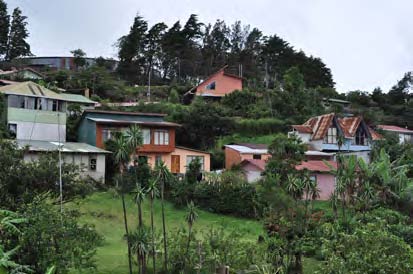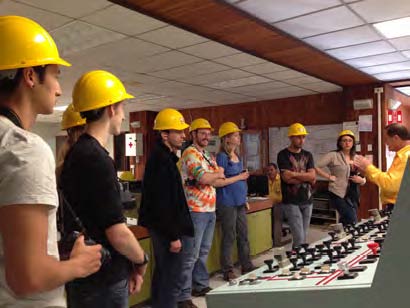 The country of Costa Rica is located on the Central American isthmus between Nicaragua and Panama. The size of Costa Rica is roughly compared to West Virginia. Costa Rica is well known because it boasts a collage of natural habitats, and holds five percent of the world's biodiversity in only three and a half hundredths of a percent of the earth's surface.
Located 4500 feet above sea level with a population of 3500 people, the town of Monteverde is a community in the Tilarán Mountain Range on the Continental Divide. Its economy is driven by ecotourism of the Monteverde Cloud Forest Preserve (MCFP), that holds a rare habitat with unique species of plants and animals. The main attractions are the birds, especially the quetzal. The continuing struggle is to sustain the environment which is the source of its economy, ecotourism. However, recent growth threatens the critical unprotected habitat.
---
ACADEMIC PROGRAM
Sustainable Futures is an interdisciplinary program in architecture, landscape architecture and planning involving five university partners and the

Monteverde Institute

. The ten week course offers students the opportunity to live and work in a rural, but rapidly developing region on the Pacific slope in Costa Rica. This is a "service learning" engagement where studio work is focused on community-identified projects that help envision and create futures that are ecologically and socially just. Since the program's inception in 1995, the Sustainable Futures program has contributed to planning, design, and construction throughout the area.

Sustainable Futures uses practice as a learning approach, and introduces intervention theory as the organizing perspective: how to organize to do work and how to engage a diverse and complex community in place-making. The work focuses on generating responses to the community requests to generate a public dialogue. A design/planning studio forms the backbone of the program, and uses methods of small group interactions, team design/
build work, individual critiques and public reviews.

COURSES OFFERED
Studio :: Practicum :: Internship
6.0 credits undergrad :: 7.0 credits grad
The studio environment is structured more as a professional office than an academic design studio. We are working with clients who have specific needs. We meet with them often to clarify direction and, adjusting and readjusting as we learn more; we are responsible for their desires, not only our own. Part of what we will learn is "how" to work with clients, how to be effective in the use of their time and yours, how to read and understand group behavior and yourself in relationship to it. The studio work is not only collaborative, but interdisciplinary; you will learn to work with peer designers who use different terminology, tools, and processes.

Research Seminar
2.0 credits
This course is a structured research seminar for students attending the Sustainable Futures summer abroad program in Monteverde. Each student, in consultation with the instructors, will undertake field work in the Monteverde community in order to document and study the usage of water in both architectural and landscape architectural environments. The intention is that this documentation will form the basis for further design and planning work in the community in subsequent years of the Sustainable Futures program.

Spanish - w/ Monteverde Institute Faculty
1.0 credits
Taught by native Spanish speakers, this course offers Spanish conversation skills using the communicative approach to language acquisition. This is a participatory curriculum focused on comprehension, speaking, reading, and writing. Students will be assigned to beginning, intermediate or advanced section based on speaking ability at the beginning of the term.

In addition, students will participate in a homestay program specifically designed for members of the program. This is the "immersion" part of the course. Living with a Costa Rican family is one of the more intense experiences in the program. Students are encouraged to learn about their family, enjoy them, and share with them.

Sustainable Design
3.0 credits
Costa Rica is arguably a leader in sustainable practices and policies. The country holds nearly 30% of its landmass in reserve, and is considered a "BioGem" by the Natural Resource Council. Costa Rica produces over 90% of its electricity through renewable sources such as hydroelectric, geothermal, and wind. Further, the government has committed to becoming carbon neutral by 2021, providing incentives for green investment and conservation to this end. Reforestation and sustainable timber production has long been a policy focus – the forest cover has regrown from a low of 21% in 1987 to 52% as of 2005. One could conclude that Costa Rica institutionally places natural capital at the center of its development. Last, and not least, the country was voted the "greenest and happiest" in the world by the New Economics Foundation.

This course broaches sustainable design through a lens of systems thinking. It explores each of these systems in the Costa Rican context in order to understand design engagements between the built and natural environments through: water, energy/climate, materials/waste, food, and urbanization. The work of the seminar connects readings and discussions of the larger issues to local practices in Costa Rica within each of these areas through lectures and field trips.

The course is integral to the pedagogy of this program. The Sustainable Futures program as a whole is designed to offer students an abroad practicum experience in a small rural community on sustainable projects identified in collaboration with the community. The course is intended to put the professional work done by architects, landscape architects, and planners into a theoretical and international context.

TOTAL CREDITS OFFERED
12 credits undergraduate / 13 credits graduate
CLASSROOM/STUDIO SPACE
Students work from the

Monteverde Institute

where they have their own studio space equipped with computers, scanner, plotter, and wireless internet. The Institute library has additional resources. Students are required to bring a laptop computer for studio work.
---
ACCOMMODATION
Students stay at a local family's home within walking distance of the Institute. A detailed questionnaire aids in matching students to families.
---
ESTIMATED
COSTS
Estimated costs for this program can be found at the top of this page next to Budget Sheets by clicking on Summer.

UB students are encouraged to apply for study abroad scholarships. To learn more about the scholarships available to UB students, please visit our scholarships page.
---
FOR MORE INFORMATION
Please visit the
the Sustainable Futures website

, the
Monteverde Institute website
or
contact the Faculty Program Director:

Dr. Martha Bohm
marthabo@buffalo.edu